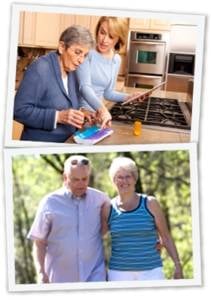 Here are a few simple indicators that can alert you to the need for geriatric care—either for yourself or for a loved-one.
Unmet Medical Needs
If you find it difficult to remember a physician's advice, are confused about which medicine to take (and when), or constantly seek help for the same issue, it may mean your medical needs are not being properly addressed.
Compromised Activities of Daily Life
Do you find that commonplace Activities of Daily Living (ADLs) like dressing, eating, toileting, etc. are becoming increasingly challenging? Subtle changes in every day activities are not unusual as we age.
Neglected Financial and Legal Matters
Do you wait until the last minute or even avoid making plans for asset protection (wills, estates, trusts, etc.?)  Do you avoid addressing paperwork and mail? Are you (understandably) overwhelmed by the complexity of Medicaid, Medicare, or Long Term Care Insurance?
Repeated or Serious Medical Emergencies
You may have experienced a medical emergency that is stressful, recurring, and/or complex. If you are concerned about your health and experience repeated medical emergencies, you may need an advocate to help decrease the chance of rehospitalization.
Demanding Long Distance Care Management
If your family lives far away, you my find yourself involved in the challenge of arranging care and services long distance. From costly travel arrangements, to loss of work, to the stress of trying to make appointments from thousands of miles away, you and your family pay a high price as the need for care increases.
These indicators, oftentimes, are simply a normal progression of aging. Our Certified Geriatric Care Managers can help address these issues using their experience, their local knowledge of support services, and Better Healthcare's network of caregivers.